In Touch Counselling, Long Crendon, Buckinghamshire
2011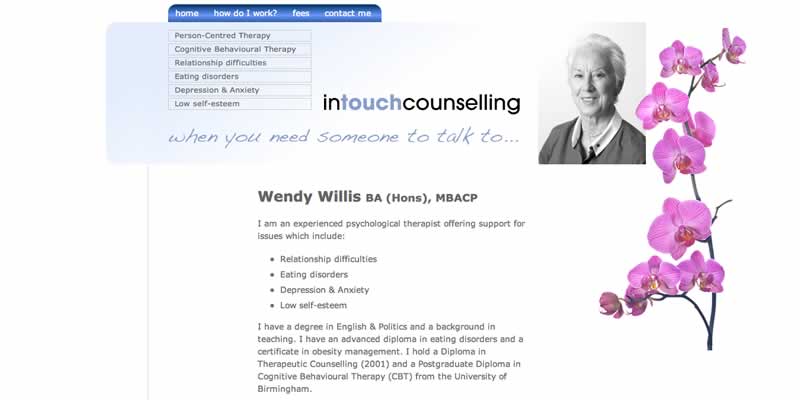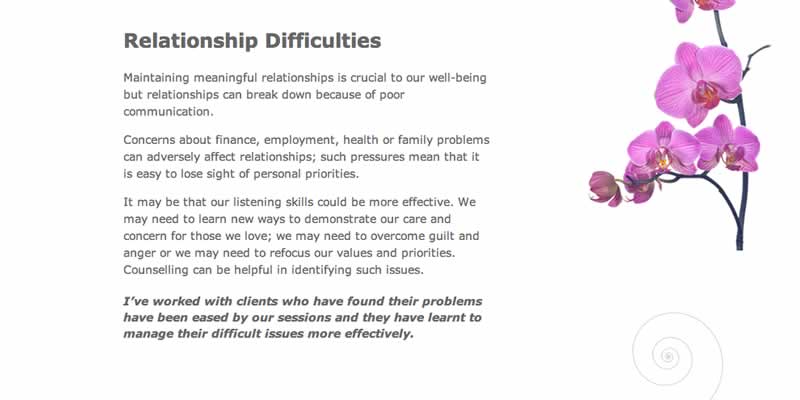 An attractive web site design for a local therapist, the site reflects the personality of the owner to achieve a calm and open design. The business specialises in Cognitive Behavioural Therapy (CBT) and Person-Centred Therapy (PCT) to help problems such as relationship difficulties, eating disorders, depression & anxiety and low self-esteem.
We always try to include a client's style and character into a website and visiting a client in their offices can help a great deal. Our client for this local Buckinghamshire website design is clearly a garden-lover with a keen interest in orchids.
We found some lovely stock photography that we used to frame the website and created a calm, serene site design to reflect the image they required. Lots of white-space allows the text content to be the focus of attention and a pleasing typeface and a good line spacing helps a possibly very-stressed user to easily get what they need from the site.
As for many of our clients, we also arrange web hosting and email accounts and are always there for any small tweaks to text that people always need after looking at their site for some time!